The White Rose by A.M.Helen
Expected publication: August 22nd 2016 by Teardrop Productions
GoodReads Summary:
With Melissa Medina missing and billionaire Alexander Kane in turmoil, it falls to David Kane to unravel the lies behind the collapse of his elder brother's relationship. But distraction lies in his desire for the woman who threatens to undermine him body and soul.

Catalina Medina's reckless nature is a torment to David's need for control. When they clash, emotions flare, wills bend and passion becomes an inferno of want. Introduced to David's private world, Catalina begins to take the first steps to forgiving herself for events in her past she can never change.

The millionaire Sebastian Moretti is trying to change. He fears the sins he committed in his crazed youth, sins against both Catalina and her cousin, could be unearthed. The only woman he has ever loved is now within his grasp. And Sebastian will destroy love, faith and even lives to make Melissa Medina love him too.
Catalina has always held herself responsible for what happened to her cousin, Melissa, when they were younger. For what she did, she doesn't allow herself to be happy. She denies herself relationships that could make her happy. And she knows that David could make her very happy.
David is fascinated by Catalina and her turmoil. He wants to take control and fix it. He wants to make her happy. He wants her. He will have her. He just has to make her see it that way.
In the meantime, Melissa is facing the fact that she is back in the hands of the monster from her youth, and it appears that there is no escape but death this time. But death's release may be a long ways off.
The author does a wonderful job of portraying her characters in such a way that you really feel what they are feeling. You feel Catalina's anger and Melissa's despair. You feel Alexander's devastation when he discovers that Melissa is gone. A.M. Helen definitely has a way with the dark romance.
The White Rose is being released today, August 22nd. Be sure you get your copy! Haven't read The Blue Rose, yet? What are you waiting for?
The White Rose was provided to me by Teardrop Productions and NetGalley in exchange for an honest review. I am not being compensated in any way. All opinions stated are fully my own.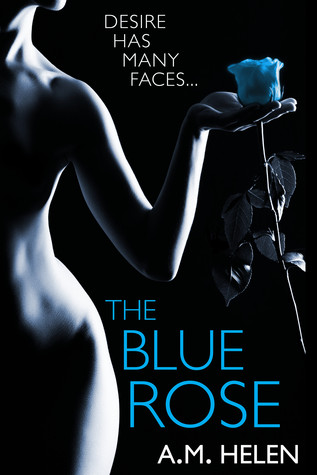 The Blue Rose is Book #1 in the Rose Series by A.M.Helen. Since I was provided Book #2 by Teardrop Productions and NetGalley, I needed to backtrack and read The Blue Rose. This was a good book.
This is how GoodReads described it.
When Melissa Medina takes up the position of Spanish teacher to enigmatic businessman Alexander Kane, the attraction between them is instant and intense. The strict lines of employer and employee soon begin to weaken as desire overtakes all other rules. With wealth and power though, comes exposure. Kane has enemies. Melissa has secrets. And outside forces from their past and present lives are intent on destroying their new relationship for mutual gain. As their lives converge, passions intensify, past secrets spill into present-day lives and lies begin to look like truths. But who is the saint and who is the sinner...