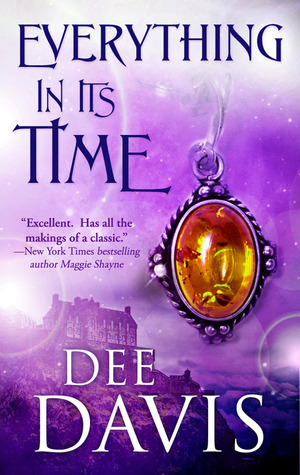 Everything in Its Time by Dee Davis
GoodReads Summary:
Years ago while vacationing in Scotland, Katherine St. Claire believed she'd found the love of her life. She shared a night of passion with a stranger, in a hotel castle called Duncreag. But come morning, her lover had disappeared. And she has spent the last eight years trying to convince herself it was all a dream...

Living in the 15th century, Iain Mackintosh remains haunted by the memory of his greatest love. Eight years ago, she disappeared, leaving behind a cairngorm earring as the only evidence of her existence. Iain's family wants him to stop pining for this fantasy woman and submit to a sensible marriage. But Katherine suddenly returns to him and reveals to him where—and when she's from...
You have to suspend reality to read these romances or they don't work. Even so, there were a few things that bothered me about the mechanics of the time travel. Other than that, this was a fantastic story! The characters were wonderful. Though the story reminded me of Outlander, Iain is no Jaimie. He's just not consistent. At times he seems a bit of a pushover and at other times he's a rock. I guess he's too easy-going. But Katherine is wonderful. And they remain focused on each other even when they haven't seen each other in 8 years. They shared the one night. They each have one of the earrings. They believe that somehow it will come right again. And, of course, it does. It's a lovely story. If you're not persnickety about your time travel techniques, try it!
I acquired this through BookBub (Amazon) for nothing. All opinions are fully my own. I am not being compensated for this review.