If you are a fan of steampunk novels, this is the series for you. If you have never read steampunk, you still might consider reading this one. This is full of an alternative history of Victorian London, magic and love set at a pace that keeps you out of breath most of the time.
I just finished the third book, A Study in Ashes, in this wonderful trilogy by Miss Hallowell.
The last book was the best, but the whole series was really great! I don't read too many steampunk novels because they, by their very nature, can be quite limited in scope. However, all it took was the mention of Sherlock Holmes, who is in here, to grab my interest. I was going to write a review, but after reading Kara-karina 's review, I decided I wouldn't be able to do the books any more justice than she had. So I am simply passing on her review.
GoodReads:Here is the review by Kara-karina:
A brilliant wrap up of all the things building during the first two books of The Baskerville Affair! I already mentioned last week that this series was awesome. Fast, furious, full of wonderful gadgetry, magic, treachery, danger and complex intrigues. I was glued to the books, satisfied with the ending and hopeful for more instalments in the future.
Poor Evie does not get a break after the events in A Study in Darkness, and the third book becomes even more Gothic and intense as all the plot knots start unravelling.
I'm glad that what felt like a love triangle in book #1, completely resolves itself by the end of the second book, which is only natural in the set of circumstances. Both Tobias and Evelina get on with their lives and various challenges they represent, and outgrow their feelings for each other, especially Evie who sees Tobias far more clearly than he sees her, and who typically fell in love with him like most of us - for his potential, not for his actions.
Nick stays his scrumptious self and I as usual do not have any complaints about his dashing piratical persona - he is a lovely character! *grinning maniacally*
Evie... *raises her glass* is going to the dark side, and oh boy, when she goes - she goes. This is one of the reasons why this book was so fascinating for me to read. That pull of dark magic she experiencing is only gonna get stronger in A Study of Ashes, and actually she deals with it in a spectacular way.
Much of the book is also dedicated to Imogen, Mouse and Bird's adventures. While they were not bad, they were not my favourite part of the plot even if they gave the reader more interactions with Bucky and charming Poppy.
Overall, A Study in Ashes brings all the characters together in an explosive way. Expect some dark twists, shocking deaths and epic battles. I'll say no more as I don't want to give you any spoilers. Highly recommended.
The first two books in the series are: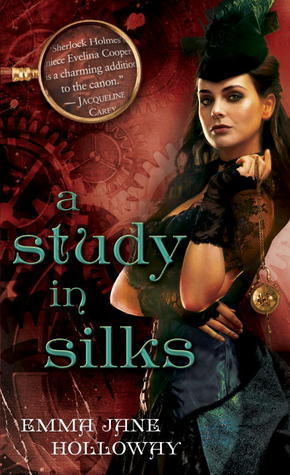 and
If you decide to read these great books, I hope you enjoy them as much as I did!
Judi and the Two Cats!