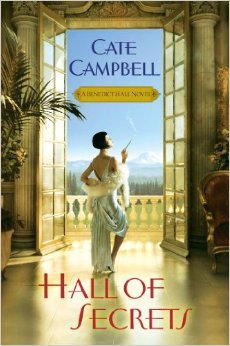 Now here's a treat for your Downton Abbey Fangirl side!





The 20s: America between the wars, bobbed hair and shorter skirts, the glory of flight, and women in the work force. This time period has always held the glamor of a free society and easy living ... but it wasn't as free or as easy as is often supposed. Hall of Secrets portrays part of the tumultuous transitional period between the sovereignty of the old order and an age more and more recognizable to us.

The Crawleys of America, the Seattle Benedicts are the kind of ritzy, wealthy clan which dominated society until the Great War shattered the system. Now they are facing this new era of class ambiguity, and thanks to a forward-thinking father and son team heading the family business and a daughter having faced down the old barriers of the male-dominated medical profession in order to earn her place as a leading physician, the Benedicts of Benedict Hall are going strong.

The San Fransisco Benedicts, on the other hand, are foundering. With parents stuck firmly in the ideals of the 18th Century, Allison Benedict is sent to her Seattle relations in disgrace when a night of fun and youthful frivolity brands her as ruined in the eyes of her mother and father. Never having known what love and affection really are, it is difficult for the young debutante to place her trust in her cousins. But Cousin Margot -- independent and college educated -- sparks an interest in Allison whose own father insists that higher education is wasted on girls. Befriending her relations is the hardest choice Allison will make, and your heart breaks for a girl so torn and twisted up by the mistreatment and manipulation of unfeeling parents.

Beneath the surface, this book is an exploration of the mores of 1920s Seattle society. It brilliantly remains true to the harsh and uncaring truths of some of the more sordid facts of the culture, though offers the hope of progress which Margot and her family are striving for. The issues of racial prejudice, contraception/family planning, women in formerly male-dominated roles, family relations, and the first whispers of what would be known as the Great Depression all come into play through the course of the story. It is all very well researched and masterfully presented!

The only issue I had was that at about 3/4 of the way through it seemed as though there were some scenes which should have been ordered differently. It forced the story to "fast forward" and "rewind" in the plot's timeline very noticeably, where it hadn't up until that point.

Excellent storytelling and strong characterization. Margot and Frank stuck to their guns, but found a happy middle ground to form a foundation on. I was very proud of them! Bravo!

**Thank you to Kensington Books and NetGalley.com for an ARC of this book!