The Great War is over and Britain works to recover from the horror and trauma which nearly ripped it apart. Wounded warriors - both the physically maimed and the mentally scarred - return and try to take up a life that they have changed too much to acclimate into once more. Women fight to find their equilibrium after the bars which restricted them from work fell, and the new definition of womanhood remains blurred in the eyes of an unsettled society. The nation bands together in the wake of the loss of nearly a generation of its young men.

Amidst all of this, a lone spirit cries out in rage...

Sarah Piper takes a job as assistant to a man who researches ghosts, and when she is sent into the barn where Maddy Clare is said to dwell beyond death she is faced with a challenge unlike any other.

A nobody with no past that anyone is aware of, Maddy came to work as a maid. A life that held no fame and little consequence to anyone it seems, ended suddenly with a length of rope in a barn. Her body lies buried in the village churchyard ... but her vengeful hate remains very much alive.

For some reason, Maddy is receptive to Sarah and seems to be leading her towards some unknown goal. With the help of the handsome former soldier, Matthew Ryder, Sarah discovers clues that lead her towards the truth of Maddy's end. But the path to this truth is a dangerous one. It becomes clear there is someone out there who has something to do with Maddy's death, and he will not shrink from harming those who seek to find him.

As Sarah and Matthew draw nearer to the answer Maddy drives them to find, they are drawn closer to each other. He bears scars both on his body and his soul, but Sarah finds him to be beautiful regardless. Their steps approach a violent, twisted revelation, and the stakes grow ever higher as they come to mean more to one another.

~~~

Talk about chills -- Maddy is one scary girl! Rather than depending on the inescapable gloom and terror of a traditional horror story, Simone St. James has crafted a wonderful blend of historical, mystery, thriller, ghost story, and romance. To make it really gripping, she spikes those horror scenes with a deft hand at spine-tingling creepiness. True devotees of the horror genre would probably consider this light and fluffy -- fine by me! It's an engrossing story that takes on, in a minor way, the awareness and history of PTSD (this seems to be a recurring theme in her books).

Something that deserves a special mention, I think, is Sarah's relationship with Matthew. It is very unhealthy when things start out for them. They don't play nice in the sandbox with each other, and then that first intimate encounter they have is almost as disturbing as one of Maddy's temper tantrums. He uses her. It's like he's taking a shot of whiskey to still the shakes -- a realistic circumstance for someone dealing with PTSD perhaps. But for the sake of the story, if they'd parted ways and never seen one another again after that it would have just been downright wrong! Thankfully they're stuck in close company on the job, and Sarah is determined not to let things rest as they are. What started out so warped becomes much more genuine, though even by the end of the book they have things to sort out. It's a very authentic relationship, and the way it develops through the course of the book is powerful.

I devoured this story, and loved every chill and every thrill. I can't wait to see St. James develop further as an author, and my hopes are flying high that she'll have a prolific career. Bravo!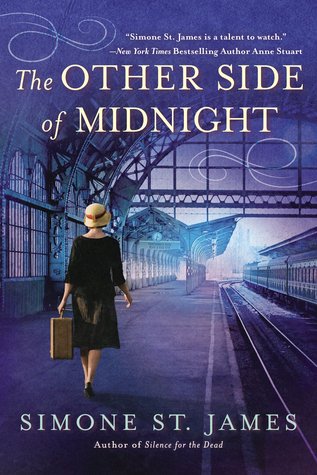 Keep your eyes peeled for The Other Side of Midnight, coming April 7th, 2015!!